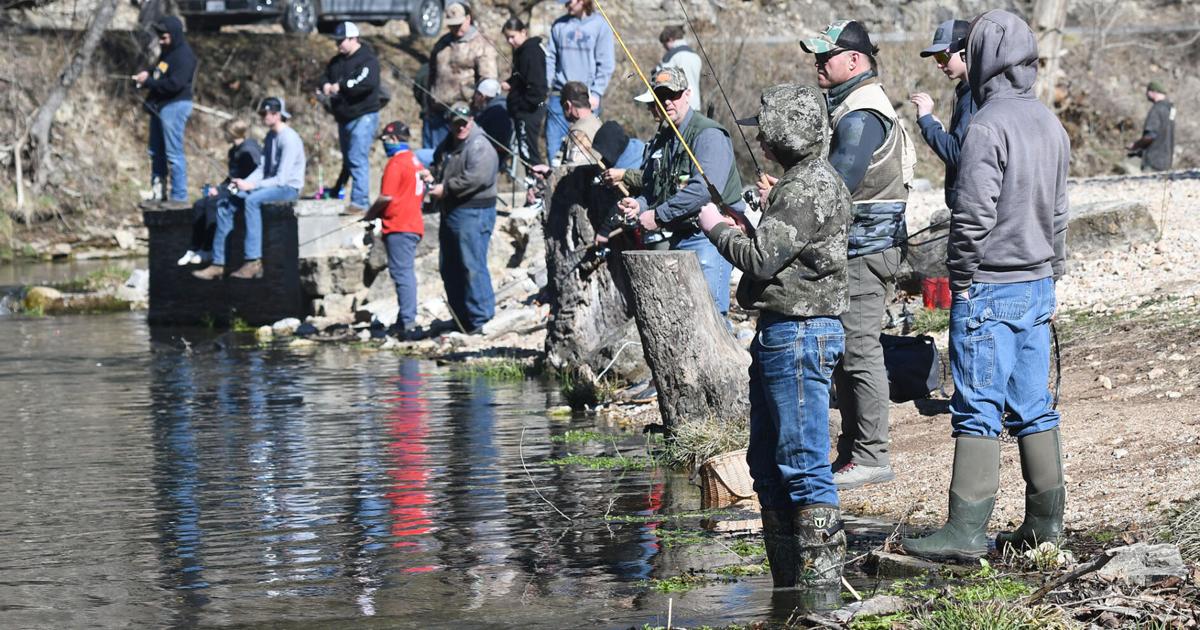 CASSVILLE, Mo. — A nearly century-old tradition, Missouri Trout Park Open Day was boosted this year by sunshine and warm weather.
The trout catch and hold season kicked off Tuesday at Roaring River State Park. With temperatures reaching the 70s, Superintendent Joel Topham expected a strong turnout from anglers and visitors alike, adding: "No matter how many trout tags we sell, it's going to be a good day.
Class of 2007 Monett High School classmates Luke Dickens and Levi Buckhannan were there. They admitted to playing hooky more than once on March 1 in order to get in on the action at Roaring River.
Cassville students traditionally enjoy an official break from classes on March 1; Monett's students do not.
"When we were at school, we'd come down at 4 a.m. and lay on the banks waiting for the whistle to sound," Buckhannan said, "then we'd drive our fish back to the school parking lot. where we clean them."
Now the duo, along with friends Gary Benham, of Galena, Missouri, and Juan Garcia, of Fremont, Nebraska, are showing up to the river a day early just to camp, fish, hang out and relax.
"We don't worry too much about being on the river for the first shot anymore," Buckhannan said. "We got out of that. It's not fun to tangle your line with your neighbors' lines.
Anglers line up shoulder-to-shoulder awaiting the 6:30 a.m. signal, then toss plastic worms, rooster tails, flies and more into the spring-fed river after rainbows and brown. It's a tradition that dates back to 1928, when Roaring River became one of Missouri's oldest state parks.
Each angler can keep up to four trout per day during the season, which runs from March 1 to October 31. Catch and release are authorized on certain days in winter.
With a party-sized tent and an ambitious menu that also includes steak, ribs, chili, fajitas and lots of cookies and gravy, Buckhannan and his band said they would have more than enough food for neighbors and friends.
"We'll have friends stopping by all week," Buckhannan said.
Across from Campground 3's party tent, Les Schatzly of Neosho sat quietly reading a book outside of his self-driving van. Retired two years ago from a career in law enforcement, fly fisherman Schatzly says peace and quiet is a priority for him now.
"Roaring River is my favorite park," he said. "I come here about 75-100 times a year."
Tom Jarrett of Carl Junction bought tag number 1105 at 5:45 a.m., following an opening day tradition for him that dates back to 1977.
"In 1986 I caught a 10lb 4oz lunker when opening day fell on a Saturday and there was a record 3,000 (anglers) in attendance," he said.
In January 2020, Jarrett's wife Linda suffered a stroke that left her partially disabled, and opening day was the furthest thing from her mind that year.
"Linda asked me, 'Tom, what are you going to do about Roaring River? You have to go,'" Jarrett said. She had two fish on her line before I cast my fly.
Similar stories could be collected without too much effort from any number of people on the banks of Roaring River on March 1st. For many families, opening day is a tradition passed down from generation to generation. As Schatzly says, fly fishing is therapeutic; the same goes for the memories that surround it.
Opening Day Honors
Roie Hudson received the honor of purchasing the first trout tag for opening day 2022 and fired the first shot at 6:30 a.m. A native of Cassville, he has been to Roaring River most of his life.
"When I feel tense, I go down to the river to fish and relax," he said. "It's hard to find someone in a bad mood here."
This year, for the first time, Roaring River Hatchery Administrator Paul Spurgeon invited the public to email him nominations for Opening Day Honors.
Spurgeon said he chose the person based on what she gave to the park, including volunteering and helping children and adults learn to fish.
Hudson, who turned 69 on Tuesday, said when he first heard he had been selected for the opening day honor, he thought his fishing friends were playing a joke on him.
"It's an honor to be chosen for everything Roaring River has done for me," he said. "I've been here most of my life and made friends from all over the world, including Canada, Mexico, California and New York. When I feel tense, I go down to the river to fish and relax. It's hard to meet someone in a bad mood here. …there's no place like Roaring River as far as I'm concerned.
Spurgeon says Hudson is a longtime volunteer for Children's Fishing Day and has passed on his love of fishing and conservation to countless children, including his daughters and grandchildren.
"He loves showing people how to fish," Spurgeon said. "In addition, he also picks up fishing lines and trash from the river banks. He is a big supporter of the park.
Hudson says he goes to the river at least three or four times a month and sometimes as many as two or three times a week.
His name will be placed on a plaque on the People's Memorial Bench near the gazebo. In keeping with tradition, the plaque will remain on the bench until next year's opening day, when it will belong to Hudson.