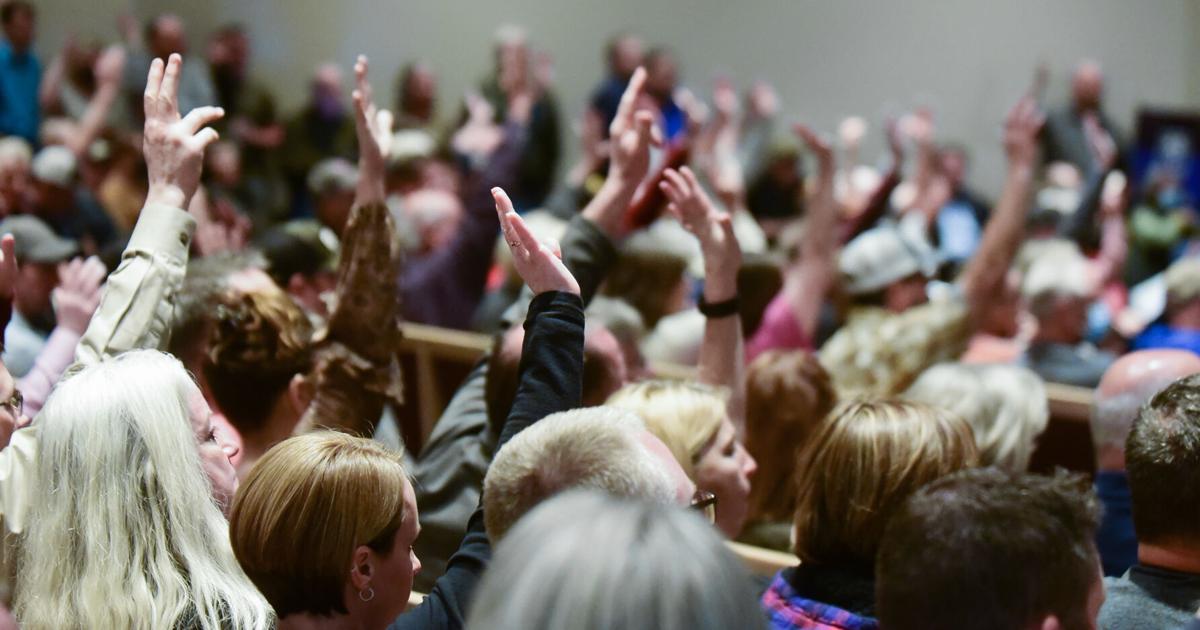 It took less than 45 minutes for the auditorium at Crosspointe Church to fill with Ward 5 residents who came to make their voices heard about a new toll highway extension that will run through their part of Norman.
The Oklahoma Turnpike Authority announced its 15-year, $5 billion plan Feb. 22 to expand toll roads. The plan includes a new tollway to connect Moore and Norman to Oklahoma City and an extension of the Kickapoo Tollway through Ward 5 crossing NE 84th and paralleling NE 72nd Avenue past Post Oak Road in Norman.
People flooded overflow rooms, sat in aisles and stood against walls shouting at Oklahoma Turnpike Authority engineers of Poe & Associates while Ward 5 Councilman Rarchar Tortorello called several times to order. Tortorello also expressed several concerns, including whether residents in his neighborhood would be properly compensated for their property.
While the adviser had been promised that an official from the Oklahoma Turnpike Authority would be present to answer questions, Tortorello said he received word that none would be present due to a scheduling conflict at Tulsa.
Residents learned that the reason for the tollway was to reduce congested traffic along freeways and major arterials while reducing travel times for toll users. As population growth continues, commuters could save between 60 and 80 minutes of travel time on the tollway, Poe engineers claimed.
The state was preparing for growth and by reducing congestion on highways, the authority's plan would also improve public safety, they claimed.
"Is 15 to 20 minutes worth taking to move people from our homes?" shouted a man in the crowd.
"They can get up an hour earlier," shouted another from the back of the room.
"If someone can't take 60 minutes out of their damn day to go one step further than bothering all these people," Roberta Provost, 79, said, interrupted by applause. She shook her fist and raised her voice above the roar. "I am 79 years old. I built my house to die in. You can't afford me enough money to buy it.
She and others echoed similar stories that the substance of their lives – their memories with children and grandchildren – had been etched into the land they called home.
"I'm 67," said a Ward 5 resident. "I don't have time to move, okay? My grandchildren love coming to our house.
Residents demanded to know what the toll road authority had done to ensure the area's lake and aquifer, which supplies wells with drinking water, would be protected.
Poe and Associates chairman David Streb said an environmental impact study had not yet been completed. Because the 15-year plan has "nine days," Streb said that's what the turnpike authority calls "the beginning of the beginning." He expected these studies to be carried out in the coming years.
Tortorello asked engineers what assurances they could give residents that road salt and chemical runoff would not enter the water supply, above or below ground.
Streb said it was one of the things authorities took very seriously.
"One of the hardest things we do is drainage," he said. "We have to be very careful with drainage, where the water goes, how do we catch it and how do we move it efficiently…especially very heavy rains."
He entrusted Sean Kavanagh, project manager for Poe, with clarifications. Kavanagh said they would consider detention "to slow the flow to ensure it doesn't affect roads and neighborhoods."
"Another thing – wetlands and other treatment methods. This will all be part of the design plan and process to ensure that runoff leaving our site will not be harmful and will be minimal," he said.
Streb said engineers need to make sure that "we don't cause any runoff or change in water flow on their [residents] property than before the construction of the road. This is probably one of the biggest challenges we have.
Tortorello alleged that some landowners in Harrah still haven't been paid for their land. Streb said the authority will send an appraiser to the property and make an offer, but in some cases when negotiations fail, the authority uses eminent domain through the district court to negotiate the purchase.
"As for eminent domain, many residents said they hadn't been paid in full yet," Tortorello said. "You're asking them to give up something, and we have residents saying they haven't been fully compensated yet. This is not suitable for people who are about to lose their home. So how do you make sure everyone is fairly compensated? »
Streb said he was unaware that anyone had yet to be paid and said he would look into the matter. He did not explain the procedures by which the authority arrived at fair market value or the payment process.
Steb added that the toll highway authority is trying to keep toll roads away from homes "as much as possible." Streb said the authority wanted to give landlords a "good offer" and that the percentage of plots purchased by the toll road in the past – less than 5% – has been taken to court for eminent domain and the rest was "successfully negotiated".
Streb also assured residents that more public meetings would follow.