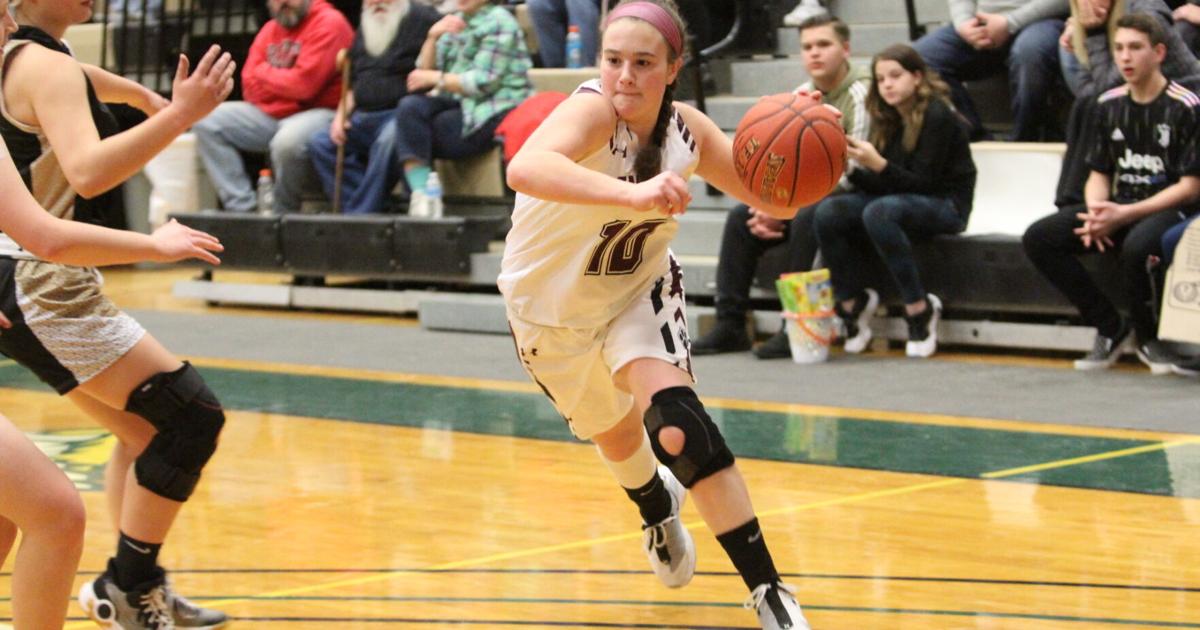 JAMESTOWN — Two days before Portville's Class C1 Section 6 women's basketball semi-final with Silver Creek, she received the worst possible news.
After suffering a knee injury in practice on Tuesday, the Panthers learned they would be without leading scorer and team captain Mallory Welty for Thursday's game.
But in light of the injury, the Panthers confidently searched for new scoring options in their subclasses. Coach Igna Welty brought in sophomores Lilly Bentley and Jackie Scanlon, and they delivered.
"We talked about yesterday and in practice that we were going to win this game without Mallory," Welty said. "Because we have enough talent to be able to do that and we need our young sophomores to get stronger. And they did just that.
Bentley controlled the paint, scoring a game-high 16 points and Scanlon dropped 13 points to lead the second-seeded Panthers to a 53-45 win over sixth-seeded Silver Creek and their first-place finish in championship final since 2011.
Bentley, the team's second regular season scorer, came out on top early in the first half, scoring six points in the first quarter. Bentley grabbed offensive rebounds and consistently scored into the post on shorter Black Knights defenders, acting as a perfect offset for the Panthers.
"The first quarter is when (Bentley) usually comes out and hits key buckets, gets fouled and just sets the tone," Welty said. "This good start is normal for her."
The Panthers led 15-6 after the first quarter behind Bentley's paint dominance.
Bentley continued their assault in the second quarter, leading a 6-0 run to start. But she quickly picked up her second and third fouls with six minutes left in the half.
Without Mallory Welty or Bentley, Silver Creek capitalized on a stagnant Portville, forcing five turnovers in the quarter. The turnovers turned into additional Silver Creek possessions, and they started to find a rhythm.
Silver Creek moved the ball with precision and found Abby Rice for open looks as she hit three triples and scored 11 points in the quarter. The Black Knights outscored the Panthers 13-10 during the period.
"I didn't feel like we really got things going in that second quarter," Welty said. "I felt like they were really in control of that second quarter."
The Black Knights cut the lead to 25-19 at halftime, but Bentley came back in the third period and stretched the lead out of reach, scoring eight goals in the period.
"In the second half I told those kids for us to be successful you need to get (Bentley) more touches…they did a great job of getting the ball in to him in the third, that's where we got got our separation," Welty said.
Bentley's post-ups drew defensive attention and allowed him to find open perimeter shooters. Mia Welty (4 points) hit a triple and Scanlon hit two of her four 3-pointers to extend the lead to 21 by the end of the quarter. Portville outscored the Black Knights 22-7 during the period.
"Offensively, Jackie played one of our best games she's ever played, which is great for your confidence level. And I'm so proud," Welty said.
Portville changed everything defensively in the second, and after committing two first-half fouls, second Ava Haynes (8 points) denied the ball to Rice, neutralizing her 3-point shot. Rice finished with 16 points after scoring 11 in the second period.
"We spoke to (Haynes) at half-time about once (Rice) got the ball back, you have to try not to get him to give up," Welty said. "And with just two fouls, she could play a bit more relaxed in the second half."
The Panthers took on seventh-seeded Gowanda 58-31 in the quarter-finals before thwarting the Black Knights.
After a first-round loss in the quarterfinals last season and a string of semifinal losses in 2012, 2019 and 2020, the Panthers will face fourth-seeded Falconer at 2 p.m. Saturday at Jamestown Community College in final.
"I thought they would have acted a little more excited coming off the pitch than they did. I think they just expected this to be the year it was going to happen and it happened said Welty, who was in his second year as a coach the last time the Panthers played in the championship game.
Portville edged Falconer in both matchups this season with narrow wins on Jan. 21 at home, 54-45, and Feb. 10 on the road, 45-42. Mallory Welty played in both matchups and will be a game-time decider on Saturday.
"We know what to expect," the elder Welty said of their upcoming game with Falconer. "We know it will be a physical game. We know they are going to be aggressive and we have to be prepared for that.