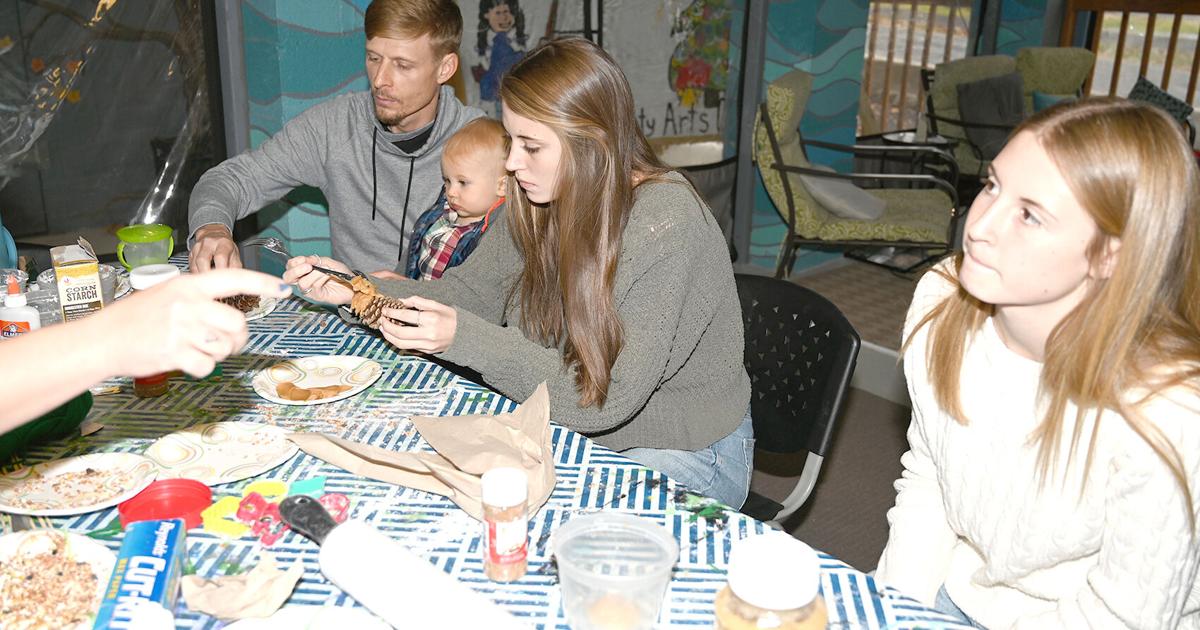 CAPON BRIDGE – River House closed for its winter break on Sunday. It will reopen at the usual times on Thursday, January 13.
Then, on June 28, the River House will complete its 5th year – a significant milestone for new businesses, since the Bureau of Labor Statistics reports that 45% fail in the first 5 years.
A holiday fundraising campaign aimed to raise $ 5,000 to celebrate 5 years of survival in particularly difficult times and to help it move forward. At the start of the new year, the target had been met and surpassed.
Covid had its impact, but also gave new meaning to River House's mission: "to provide a welcoming space where participation in the arts inspires deep community bonds and nurtures the lives of individuals and families."
The past 2 years have had an impact not only on the psychological well-being of the individuals and families the River House serves, but also on the River House itself.
Last year, the River House closed its doors completely from mid-December to March. The federal paycheck protection program loan has helped keep staff employed and provide virtual programming.
A cafe task force was formed that came up with lots of great ideas, says Beth Reese, co-founder of River House, who notes that they haven't implemented all of them yet.
Keeping the doors open is important for everyone. This year, they are discussing defining winter hours to open the cafe, with a limited menu – inviting people to gather in a place with a relaxing "cafe vibe".
The café will increase the informal multigenerational art opportunities it offers through table-placed art supplies, games and "do" stations encouraging families to create together.
River House's letter-writing project that helped connect with others during the worst of the pandemic will continue, and with a generous grant, staff will once again be making soup for the Capon Bridge pantry. and Romney's soup kitchen, like they did last year.
The concerts that have offered everything from classical guitar to jazz to bluegrass and traditional Appalachian music must continue. Despite the challenges posed by the pandemic, the River House has offered more than 40 concerts this year.
The lineup was moved indoors in November of this year, and while it's good to be able to offer live music on the indoor Giffin stage again (unlike last year), social distancing has limited attendance to 25.
Attendance and income have fallen by 50% since the move indoors.
Arts Coordinator Kayla Wilhite talks about "Covid's creative challenges" that require creative solutions. "Everyone is tired of the Internet, it's in person that you connect with a community," she adds.
What she does seems to work for children. The previous week, 13 to 15 children, including a number of "little chips", had shown up for a class that is normally capped at 10.
On a recent Saturday, the weekly River House "Art for All" project was a multigenerational affair that brought together small groups of children, teens and older family members working in multiple shifts to mold scented applesauce ornaments. of apples mixed with cinnamon or roll seeds in peanut butter to feed the birds.
His goal for next year is to bring in twice as many people, especially more families.
River House's education program reached a total of 508 students this spring through field trips, after-school programs and summer programs.
During the Hampshire County Summer Academy of the School System, River House staff presented courses in 3 different towns and offered STEAM (Science, Technology, Engineering, Arts and Math) activities in which students have explored both art and music.
Music Director Jack Dunlap has worked on recitals for participants of the River House Young Musicians Program, in conjunction with the Cat and the Fiddle School of Music.
For a 3rd semester, a group of young music students are benefiting from River House's Music Makers scholarship program, and Dunlap is talking about starting a group.
Reese credits the positive and 'active' attitude of Executive Director Nancy Silva and the wonderful staff for helping the River House weather the Covid storm.
The arts are absolutely necessary, they all believe. Reese points out that the arts benefit mental health, especially by reducing stress, and teach people to be flexible thinkers, which is especially important right now because "tough times call for creative solutions."
"Our country is experiencing a mental health crisis – we never expected a 2nd Covid winter," Reese said, adding that people are suffering from "Covid fatigue".
She suggests anyone who thinks the arts have no value should consider what has brought them through in recent years – music, movies, books, TV entertainment.
Further, she says, "the arts transcend any box we put ourselves in – and if there was ever a time we needed it, it's now."
Funds raised from the community this season will help fund continued programming throughout the winter and kick off 2022 on a strong note, said Reese, adding, "The River House is here to stay." o