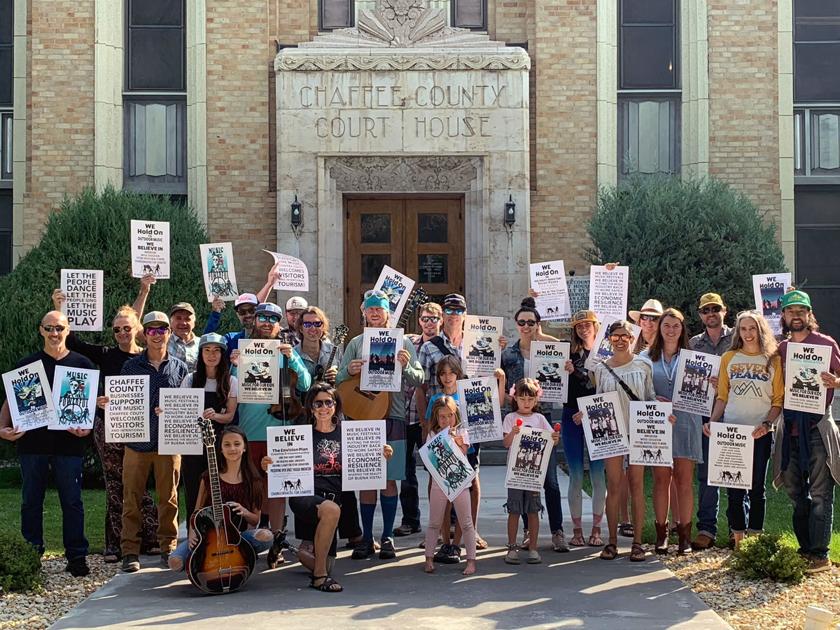 Meet Me at the Creek has been approved to take place at The Meadows on September 24-25. The County Commissioners Council approved the permit on Tuesday afternoon after considerable time spent on public comment. Event producer Scotty Stoughton has yet to release the artist lineup.
Supporters staged a rally on Tuesday morning outside the courthouse where the meeting took place.
"We had about 40 people showing up to come together," said Robin Vega, who organized a petition in support of MMATC that gathered 98 signatures from Chaffee County residents and business owners.
Many of the rally attendees stayed to make public comments, the first allowed to take place in person at a board meeting since the start of the pandemic lockdowns.
"Everyone wanted to participate in the public comments, but unfortunately the meeting was delayed," Vega said.
"Recent events have taught us that it is extremely important that Commissioners hear all of our voices and understand that music is extremely important to Chaffee County. Not just for the economy, but also for culture and camaraderie, "said BV musician Coleman Smith and owner of Coletrain Music Academy in a press release from the rally organizers.
"This Meet Me At The Creek gathering was meant to show our support not only for music, but also for Scotty Stoughton and Bonfire Entertainment. We are very grateful for their partnership and investment in our community, "he said.
Nathan Jones, who resides on a property neighboring The Meadows, submitted detailed documents to council outlining the expected impacts on the neighborhood and recommending policies on noise and curfews.
"The BOCC clearly intended to give Bonfire Entertainment everything they wanted. They had no interest in following the intent of the state noise abatement law. They have shown no interest in mitigating the impacts of the event on neighbors, "he said in a statement to Time.
Stoughton's production company Bonfire Entertainment partnered with South Main Arts and Park Trust, a not-for-profit company, and was exempted from the law under Section 11. Commissioners had previously ordered Stoughton to resubmit his application to a sponsoring non-profit organization.
(11) This section does not apply to the use of the Property by this State … or any other non-profit-making entity, including, but not limited to, non-profit corporations, or any of their tenants, licensees or permit holders, for for the purpose of promoting, producing or organizing cultural, entertainment, sporting or patriotic events, including, but not limited to concerts, music festivals and fireworks.
Vega's press release stated that SMAPT is a legitimate non-profit company with links to the community.
"The South Main Arts and Parks Trust was instrumental in the construction and maintenance of the city's Whitewater Park and built the Outdoor Lounges, a popular facility located on the Arkansas River in the South Main neighborhood. Founded in 2012, the South Main Arts and Parks Trust is also a valued partner for the fine arts community of Buena Vista and has organized over 150 free concerts, film premieres and auctions to raise funds for philanthropic efforts. and community initiatives. One of his most recent initiatives is a free Sunday concert series held at The Lawn in partnership with the Coletrain Music Academy, "he said.
Jones said he was not opposed to a properly limited and regulated event.
"I think a single event of 5,000 people (or less) per year at the Meadows is a great compromise which I hope will allow the Meadows to remain a working hay farm," he said.