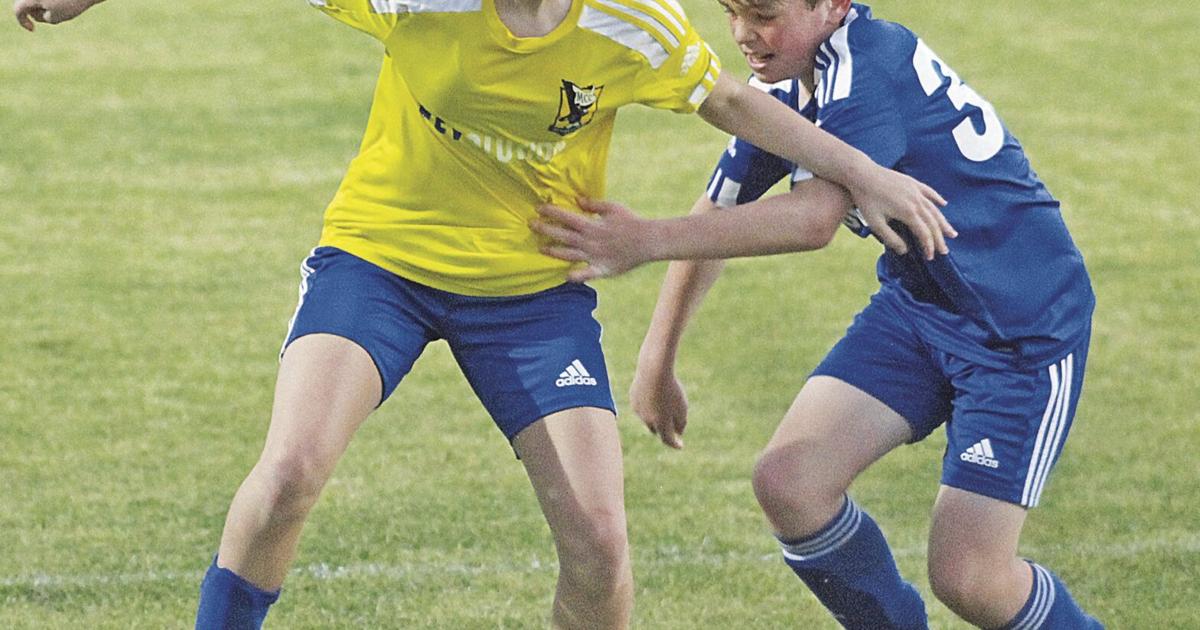 MURRAY – That was a joint statement Tuesday night at Field 1 of the Bee Creek Soccer Complex in Murray.
"I didn't think we would ever see lights at Bee Creek."
Thanks to great effort on many fronts, perhaps the time has come and, depending on the theme of the occasion, with the stars in the night sky aligning perfectly, there are now lights in field 1. Coming soon , four other fields will also have lights, giving home and away players the chance to feel like their MLS, NWSL or World Cup heroes by making winning plays in that reputation-boosting atmosphere so often. of a person – under the lights.
"Oh yes, I've waited 17 years to see lights on these fields." said current City of Murray parks and recreation maintenance manager Steve Wilhelm, who had invested more than most people attending Tuesday night's exhibition game between the girls' U-13 and of U-12 boys from the Murray Revolution travel program which marked the historic occasion.
"I started playing football 17 years ago (as president and field equipment co-ordinator of the Murray Calloway County Soccer Association, a position he held for eight years) and then it was one of my goals to light up these pitches. It's nice. It's a dream come true."
That sentiment also goes for Tim Stark, who coached the women's team on Tuesday. However, he had several reasons to be happy. First of all, like Wilhelm, he has been invested in the MCCSA for a long time, 13 years to be exact, nine of them as president and the last four as tournament coordinator.
He is also directly linked to the entity that played the most important role in this event, as he is the Vice President of Marketing at Murray Bank, whose $500,000 contribution to this project launched the momentum. .
"I may or may not have cried a few tears of joy," Stark said Wednesday, recalling what it was like to see Field 1 with its four poles in full illumination on Tuesday. "Actually, I had seen him before Tuesday, though. Steve was telling me (after the posts were placed and connected) that he wanted to see how they worked. So last week the teams came to train and we were the first to use them. But we didn't tell too many people about it and tried to hide it as much as possible.
"But to be able to share this with so many friends, family, parents and our children (Tuesday night) was so special. It's a blessing, but it's also good to see so many people making this dream a reality.
Wilhelm and parks manager Ryan Yates approached Stark, who was stepping down as MCCSA president, in 2019 about the idea for the lights. These talks were later interrupted by the COVID-19 pandemic. The bank returned to prominence last year when it approached the Park Board (then a Murray-Calloway County entity) with a naming rights proposal that was approved in May. The figure involved in these discussions was "$500,000 or more".
Shortly thereafter, the city government became the sole overseer of the park, and the Murray City Council gave its blessing for a $500,000 donation from the bank to a Bee Creek lighting project. Groves Construction of Madisonville provided the final piece by placing the posts a few weeks ago.
Murray City Mayor Bob Rogers came out Tuesday night, along with other city officials, to see how well the lights are working. He said he was impressed.
"I hadn't seen them at night until now. I was here when they were installing them. But I have to say…those other fields over there look pretty dark. It's daylight here! he said smiling. "We are very happy to be able to help. I was just talking with other people about how great it will be now for kids here and kids from other places for tournaments.
"Now they don't have to stop playing at 6 o'clock. I've heard quite a few people talking about it and that's one of the reasons we were so receptive to trying to help. Now we have 10 more posts to install. They're going to throw the ball over the spot, aren't they? »
Andy Gupton has been involved with MCCSA for nine years. His daughter, Mirielle, has been playing in the league since she was 3 years old and Andy was a coach during that time. On Tuesday, he watched her play in the historic game at Field 1.
"I love it. It's perfect," Andy said. the world here trying to make football a reality. It's one more piece of the puzzle that shows how dedicated this community is to football.
Andy also testified to the importance of this match for his daughter. A day earlier, his chances of playing were highly questionable.
"She was sick (Monday). In fact, she quit school," he recalls. "But she was motivated enough to improve and she's out there…in her red shoes. I don't know if adults can do that.