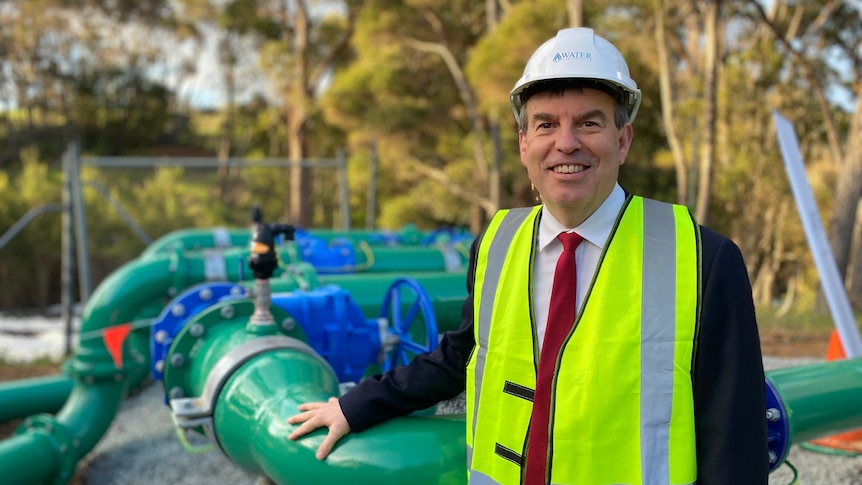 A $ 25 million water pipeline from Albany, Denmark, built to combat the effects of climate change, is finally complete but will not come into service until next year.
Key points:
Albany-Denmark pipeline officially completed
Western Australian Water Minister Dave Kelly blames federal government's inaction on climate change for water shortages
Once completed, the pipeline will not start operating until 2022 after a wetter than usual winter
Water Minister Dave Kelly yesterday announced the completion of the Albany pipeline in Denmark, a project he said was a direct response to water shortages linked to climate change.
Plans for a pipeline were first presented in 2010, following extensive community consultation.
The 43 km line was developed in response to declining rainfall in Denmark and ensures that the city will no longer depend on the Quickup Dam for its water supply.
Although the region has experienced above-average winter rains this year, since 2014 Denmark has had four of its driest winters since the record began in 1911.
Denmark will use the pipeline during the winter months, allowing the Denmark and Quickup dams to fill up for use during the warmer seasons.
Investments in the state's Deep South region have exceeded expectations, with $ 6.2 million invested through the hiring of local workers and the use of local materials and services.
Overall costs were significantly under budget, with the $ 25 million project initially valued at $ 32 million.
Mr Kelly said that while he is proud of the achievement, the expense would not have been necessary had the federal government acted appropriately on climate change issues.
Climate change behind the pipeline
"This project wouldn't be built if it weren't for the impacts of climate change," Kelly said.
"The science of climate change has been known for decades, unfortunately we have a federal government that is still controlled by climate change deniers."
Mr Kelly said he hoped the federal government would work more proactively with countries taking a more practical approach to responding to the climate crisis.
"What we need is a federal government that takes climate change seriously, so it can negotiate international agreements that will see global emissions go down."
Due to the wetter than normal winter, the pipeline is not expected to start operating until 2022.